Health and science
This section summarises the occupations that have been added and removed from the Health and Science occupational map as a result of the consultation and responds to additional comments that were submitted.
Breakdown of respondents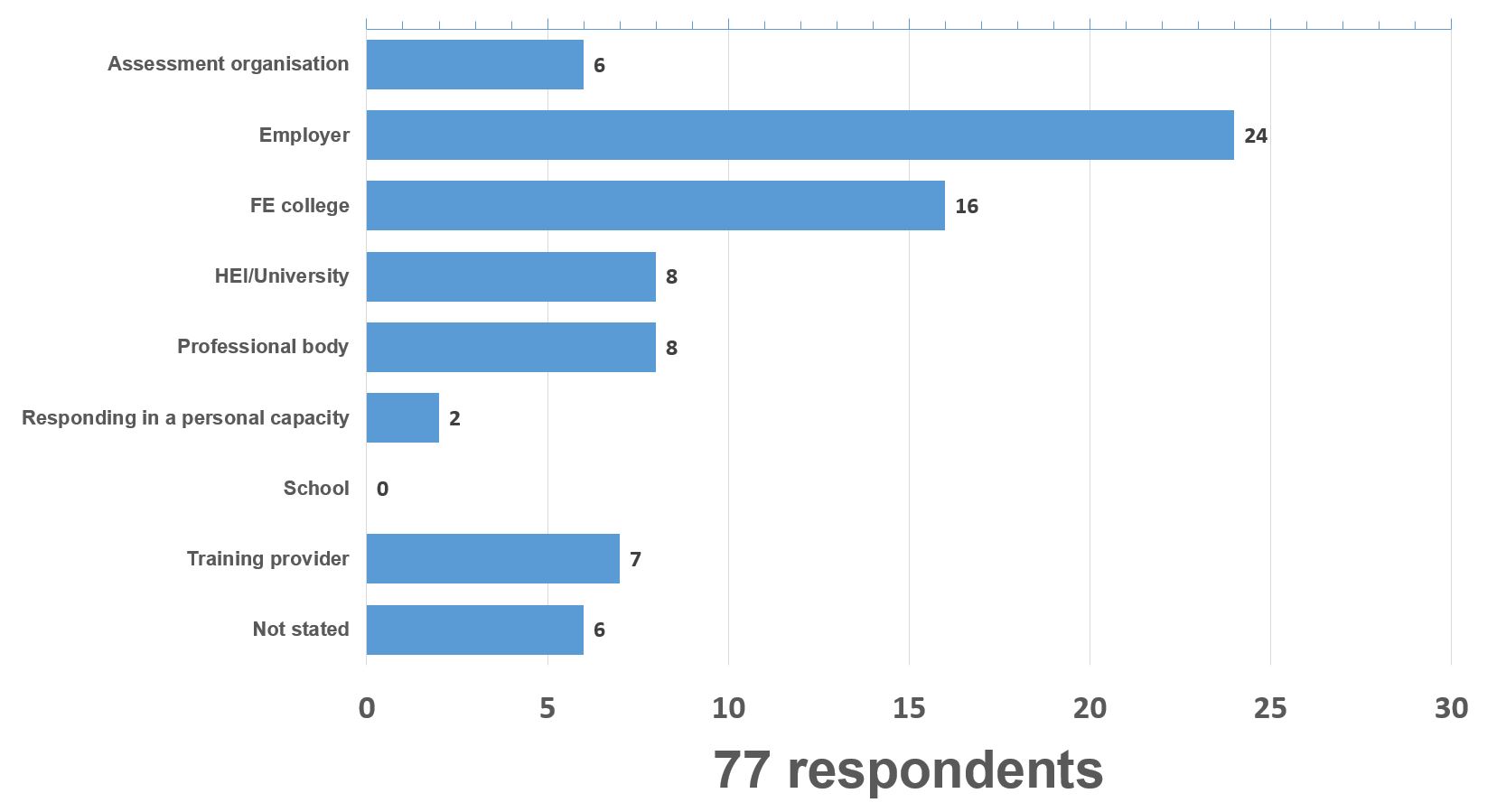 Summary of responses
Respondents proposed additional occupations for inclusion on the map and, after analysis, the following occupations have been added as standards awaiting development:
Bioinformatics Technician
Cell Biology/Microbiology Technician
Chemoinformatics Technician
Clinical Data Manager
Dental Hygienist
Environmental Technician
Mental Health Practitioner with a Child and Adolescent option (Level 4/5)
Quality Assurance Technician
Sports Psychologist
The following occupations were proposed for inclusion; however, Institute and route panel analysis concluded that they were likely to be covered by existing standards or those under development:
Rehabilitation Engineer
Sustainability Business Specialist
Elite Sports Performance
The following occupations were proposed for inclusion; however, Institute and route panel analysis concluded that there is insufficient evidence at this time for these to be considered as occupations for the development of apprenticeship standards:
Sports Development
Advanced Coach
Advanced Health and Exercise Specialist
Clinical Health and Exercise Specialist
Elite Performance Advanced Specialist
Exercise Referral Instructor
Group Exercise Instructor
Health Supervisor
Recreation Advanced Specialist
Specialist Chartered Physical Activity Practitioner
Further comments
Some respondents suggested the title of this route be changed to Health, Science and Physical Activity. While the Institute has overall responsibility for the structure and content of the 15 maps, only the Secretary of State for Education has the power change the titles of route s. We have made the Department for Education aware of these comments.
Several comments referred to the Chartered Institute for the Management of Sport and Physical Activity's occupational map, which respondents commented did not align with the Institute's map. The maps have been specifically focused on those occupations that can be achieved through an apprenticeship or T Level.
Respondents suggested the names of clusters be reviewed, to help maximise their relevance. This will be considered as part of the route review.
Respondents suggested renaming the Community Exercise, Fitness and Health pathway to Community Exercise, Physical Activity and Sport and Health. This change has been made.
Respondents suggested the 'apprenticeships-only' restriction be removed for standards at Levels 2 and 3 in the Community Exercise, Fitness and Health cluster, as there is not currently the infrastructure and/ or employer support for taking on apprenticeships.  However, the Institute's internal assessment and route panel consideration concluded that the 'apprenticeships only' condition should remain, as there was insufficient justification for the change at this stage.
Respondents commented that Sports Rehabilitator is not at the right level and should be moved to the professional cluster. This change has been made.