Construction
This section summarises the occupations that have been added and removed from the Construction occupational map as a result of the consultation and responds to additional comments that were submitted.
Breakdown of respondents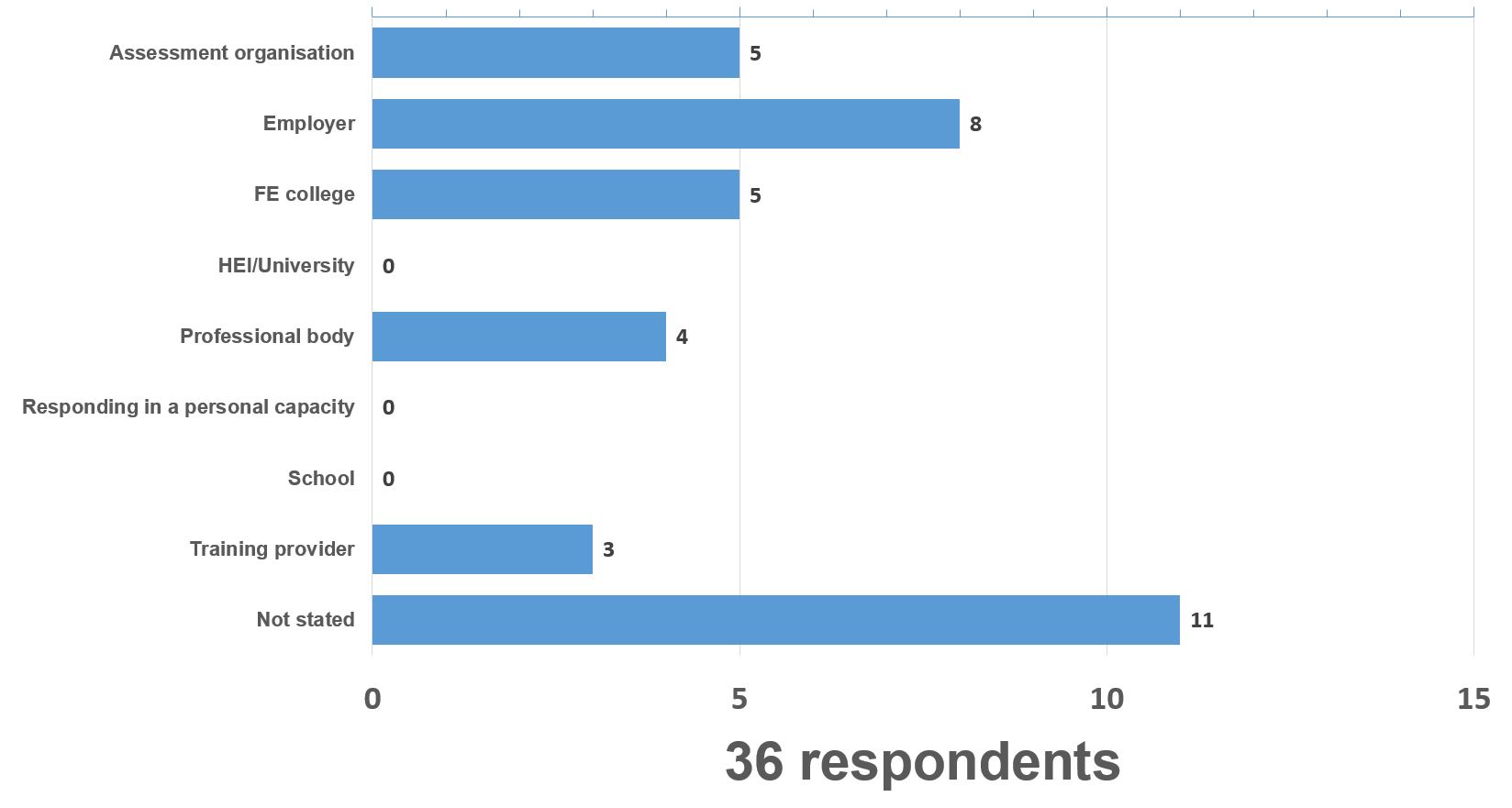 Summary of responses
Respondents proposed additional occupations for inclusion on the map, and after analysis, the following occupations have been added:
Chartered Building Services Design Engineer (Level 6)
Construction Contracts Manager
Thatcher (this has currently been placed on this route, but will be reviewed in parallel with the Creative and Design route panel to assess which route aligns best with the relevant knowledge, skills and behaviours).
The following occupations were proposed for inclusion however, Institute and route panel analysis concluded that they were likely to be covered by existing standards or standards under development:
Senior Civil Engineering Technician (Level 4/5)
Chartered Civil Engineer (Level 7)
Construction Health and Safety Manager
Senior Building Services Technician (Level 4/5)
Building Services Engineering Foreman
Building Services Engineering Supervisor
Building Services Engineering Commissioning Manager
Building Services Engineering Contracts Manager
Building Services Engineering Project Engineer
Construction Project Management
Road Building Technician
Building Fire Inspector
Site Inspector
The following occupations were proposed for inclusion; however, Institute and route panel analysis concluded that there is insufficient evidence at this time for these to be considered as occupations for the development of apprenticeship standards:  
Planning Enforcement Technician
Tendering and Estimating Technician
Built Environment Design Technician
Building Conservation Manager
On-Site Manufacturer
Road Safety Marking Technician
The existing Water Treatment Operative (Level 2) and Water Technician (Level 3) occupations were recommended for inclusion on this map.  The Construction and Engineering and Manufacturing route panels agreed they should remain on the Engineering map, based on the analysis of the relevant knowledge, skills and behaviours.  
Further comments
Several respondents raised questions about titling of particular occupations. The route panel is already considering titling across the route  as part of the apprenticeship approval process and over time, this will bring greater consistency. This process will be completed when the route  and relevant pathways are reviewed.
Respondents requested any of the occupations that could sit in this have not yet been developed, it is difficult to determine if they have similar knowledge, skills or behaviours. The route panel will consider these occupations through their review and approval of standards and at during the route review.