Overview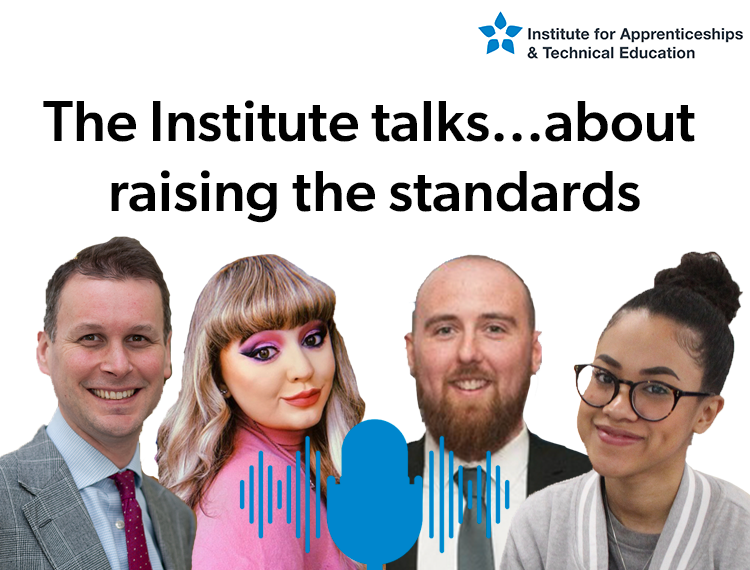 You can listen to a podcast about how our apprentice panel came up with the idea of 'raising the standards'. They also talk about how they have created this guide using their own experience apprentices to improve the experience for other apprentices. You can also find other podcasts from our apprentice panel on our podcast channel. You can subscribe to The Institute talks podcast on Amazon Music, Apple podcast, Spotify and all other major podcast platforms.
In spring 2020, our apprentice panel launched a survey to gather views from other apprentices on the quality of apprenticeships. This was to see how apprenticeships converted into real-life learning experiences for apprentices across the country and the economy.
The key findings from the survey were:
85% of respondents had signed a commitment statement
62% of respondents reported receiving at least 20% off-the-job training
70% of respondents were satisfied that their off-the-job training was useful in their job
87% of respondents would recommend their apprenticeship
Following the results, the apprentice panel decided to draw on their own experiences and set out to create a guide for employers and training providers on how to deliver a quality apprenticeship.
They split into five teams to look at the areas of improvement from the survey:
The induction process
The partnership between the apprentice, the training provider and the employer
Apprenticeship training
End-point assessment preparation
Apprentice welfare and wellbeing
They also worked with key people and organisations across the apprenticeship sector to get their thoughts on what a high-quality apprenticeship experience looks like.  You can find the list at the bottom of this page.
Training providers, employers and apprentices should use this guide to show them what to expect during an apprenticeship and how apprenticeships can be tailored to give apprentices the best experience possible. 
I am so excited to announce the launch of 'raising the standards: the apprentice guide to quality apprenticeships'. Myself and the apprentice panel have worked on this incredible project for almost a year now and I am so pleased to see the launch of it after all the hard work and efforts of the panel and everyone who has been involved.

This project is really going to set the standard for what makes a high-quality apprenticeship and why it is so important for the 3-way partnership to work together as a team to ensure an apprentice is getting the most out of their apprenticeship.

What makes this project so special is that this is actual apprentices views and experiences being used on what makes a fantastic apprenticeship and that we are not talking about the minimum requirements for them.

It has been an absolute pleasure to work with the amazing apprentices, colleagues and partners involved and I am so grateful to every single person involved.

Amelia Russell, (former) level 3 business admin apprentice, apprentice panel member
I really enjoyed working on the wellbeing section of the raising the standards guide. I'm quite passionate about mental health and wellbeing, so being able to work on something that will ensure that apprentices will be supported in that area was really fulfilling. Wellbeing is something that's sometimes overlooked, especially when you're new to the workplace and might not have a lot of experience in the workplace. The work that we've gathered for the guide will help mitigate that and give apprentices the best experience all around. 

Jamilah Simpson, (former) level 3 digital marketing apprentice, apprentice panel member
I have found being involved in this project very educational and insightful. I provided my views on the end-point assessment (EPA) as I felt best placed to comment on this as I have already completed one EPA and will be preparing for my second one in a few years time. As my apprenticeship is quite long I look forward to seeing the apprentice guide in full swing in the near future.

Samantha Ross, level 7 solicitor apprentice, apprentice panel member
What is a quality apprenticeship?
Apprenticeships are much more than just work experience and a qualification, there is a wider aspect of life learning.
A quality apprenticeship means apprentices have the confidence that the skills they are learning will help them succeed, progress and thrive.  For employers, it means they will see a good return of investment with a workforce with the right knowledge, skills and behaviours.
You can find out more about what is a quality apprenticeship on our website.
Acknowledgments
apprentice panel 
the board
Quality Alliance
Association of Employment and Learning Providers
Investors in People         
Education and Skills Funding Agency
route panel members
Forest School
Warwick University
Charlie Waller Foundation
Innovate Awarding