The Institute for Apprenticeships has appointed chairs for 15 route panels, and a panel of apprentices to advise the board.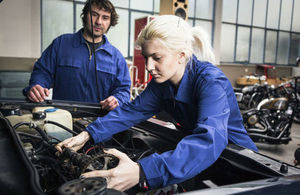 The route panels are made up of industry experts and are responsible for setting the standards of knowledge, skills and behaviours needed by employers for every occupation in England. The chairs will lead their groups in reviewing and recommending apprenticeship standards and assessment plans and advising on funding levels on behalf of the institute.
The panel of apprentices is made up of current or recent apprentices from a wide range of occupations and experiences from up and down the country. The panel will decide what issues to focus on and ensure the apprentice voice is heard within the decision making structure of the institute.
Chair of the Institute for Apprenticeships Antony Jenkins said:
"I'm delighted to be able to formally announce these appointments. For our panel chairs we've got individuals of superb calibre - a dynamic mix of experts in their field from a broad range of occupations. Their expertise will ensure the panels are run smoothly and that quality will be maintained across the system. 

"Our panel of apprentices is something I am particularly proud of - a deeply impressive group of individuals who will ensure the needs of apprentices are truly reflected in the development of the apprenticeship programme."
The panel chairs are:
agriculture, environment and animal care - Richard Self, Project Manager, Edge Careers and Agricultural Manager, Co-operatives UK
business and administrative - Andrew Ground, CEO and co-founder of Tutorfair
catering and hospitality - Alison Gilbert, Human Resources and Board Director, CH&Co
childcare and education - Sir Nick Weller, Executive Principal, Dixons City Academy, Bradford
construction - Tanja Smith, Technical Director, Gradon Architecture
creative and design – Iain Smith OBE, Film Producer, Applecross Productions
digital - Mark Sherwin, Managing Director, Global Digital Customer Services Lead, Accenture
engineering and manufacturing – Dr Graham Honeyman CBE, Chief Executive at Sheffield Forgemasters
hair and beauty – Suki Kalirai, Director, GKC Infocus Ltd and Qi Spa (Spa WMC Ltd)
health and science - Kirk Lower, National Lead for Apprenticeships, Talent for Care, Widening Participation and Volunteering, Health Education England
legal, finance and accounting - Mike Thompson, Director, Early Careers, Barclays
protective services - Sir Jonathan Murphy, former Chief Constable Merseyside Police, Professor of Advanced Policing Studies, Liverpool John Moores University
sales, marketing and procurement - Godfrey Moger, Station Director for Free Radio, Bauer Media
social care - Sir Roger Singleton, Chair of the Independent Safeguarding Authority and previously Chief Executive of Barnados
transport and logistics - Michelle Nolan-McSweeney, Head of Training Strategy, Network Rail
The 11 members of the panel of apprentices are:
Heeran Basi – SevernTrent
Holly Broadhurst – JCB
Lucille Gallaway – Barclays
Adam Gymer – Pfizer UK
Kara Halford – Dawn's Flower Box
Becky King - National Physical Laboratory
Kam Penglin – CT Skills
Sanna Shabir – Atkins Global
Adam Sharp – Sellafield
Daniel Skinner – BAE Systems
Poppy Wolfarth – Asset Training